Most of our alumni complete a residency after graduating. To explore the fields in which and institutions at which our alumni complete their residencies, visit our Residency Match Explorer.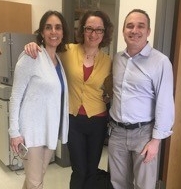 To see the various paths their careers take after that, see the pages below.
We present separately the breakdown of the types of employment of our graduates highlighting the changes as their careers progress through training and beyond.
And, of course, if you are a graduate of the Tr-I MD-PhD program and would like to share an update with us, please drop us a line and let us know what you are up to. We love to hear from our alumni!