The Program consists of three parts: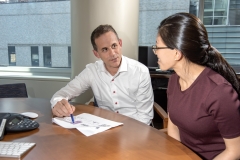 Two years of medical school education, during which time the students take two year-long graduate level courses (Frontiers in Biomedical Science I & II) and complete three research rotations (in three different laboratories, in at least two different research institutions). By the end of the second year (end of the third rotation), students are expected to have chosen their thesis laboratory.
At least three years of graduate education and original research to satisfy the requirements for the Ph.D. degree. Students take at least two semester-long graduate courses that are chosen in consultation with their thesis advisor and complete other formal requirements (defend a thesis proposal and eventually write and defend their thesis).
A final period of clinical training where students follow the third year medical school curriculum plus additional clinical training depending on their interests. The fourth year of the Medical College curriculum is largely elective, the equivalent of which MD-PhD students will have completed during their research training.
In addition to the above, there is an annual MD-PhD retreat, where students from all years get together and present their work.