January 7, 2020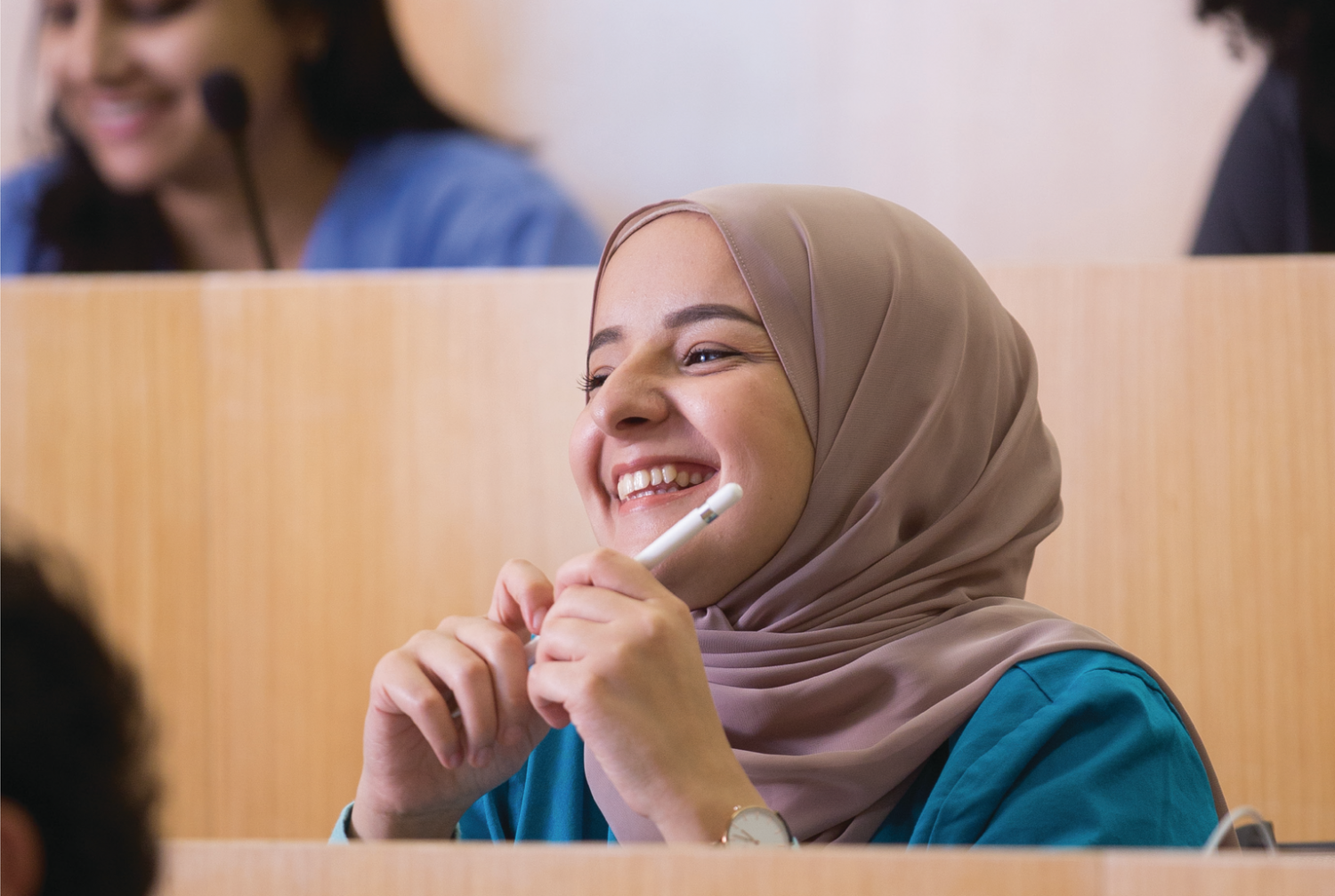 By Heather Salerno
Photos by Ashley Jones
Sarita Ballakur '21 can't imagine any career but medicine. Growing up, she'd visit patients with her cardiologist grandfather, witnessing his close bond with the people he treated and how much he enjoyed helping them. She dreamed of being that kind of doctor—but the reality of paying for her education hit hard once she was accepted to Weill Cornell Medicine. By the time she began her third year last fall, she'd accumulated $70,000 in student loans, a figure she expected to double by graduation. Like many of her classmates, Ballakur knew it would take years—possibly even a decade or more—to pay off that debt. Thinking about how much she'd owe as a young physician sometimes left her feeling overwhelmed. "It's this cloud that sits on my shoulders," she says, "this chest tightness that comes from time to time."
Much of that anxiety evaporated in September, when Weill Cornell Medicine made a sweeping announcement: beginning with the current academic year, it would eliminate medical education debt (based on standard annual cost of attendance) for all students who qualify for financial aid. With $160 million in landmark gifts from the Starr Foundation and Weill Cornell Medicine Overseer Maurice R. Greenberg, Joan and Board of Overseers Chair Emeritus Sanford I. Weill and the Weill Family Foundation, and other donors, loans will be replaced by scholarships that cover not only tuition but housing and personal expenses—an additional benefit for those studying in one of the world's most expensive cities.
For students like Ballakur, the announcement was life-changing. Amid champagne and confetti at an event in the Belfer Research Building, where the plan was unveiled, she held back tears speaking about how she'd been working at two part-time jobs—answering phones at Weill Cornell's radiology department and teaching MCAT review courses for a test prep company—to help pay for books, food and other expenses. Now that her anticipated debt has been cut in half, Ballakur may reduce her work hours to focus more on her studies—not to mention pay for groceries without worry. "I'm in shock, honestly," she says. "I can't believe the debt I've accrued so far is all I'm going to have. I'm going into the future with a much lighter load."
Easing the Burden
According to the latest data from the Association of American Medical Colleges (AAMC), 76 percent of medical students face huge debt when they graduate—a median of $200,000. The Class of 2019 at Weill Cornell Medicine, which costs about $90,000 a year to attend, had an average debt of nearly $157,000. Though that's less than the burden of many students at peer schools—due to increased efforts by Weill Cornell Medicine to make students more aware of ways to reduce borrowing—most graduates were still entering their residencies saddled with significant debt that they needed to start paying back within six months.
Dr. Augustine M.K. Choi was determined to change that when he was named the Stephen and Suzanne Weiss Dean of Weill Cornell Medicine and provost for medical affairs at Cornell University in 2017. Making medical education more affordable has been a top priority for Dr. Choi, who oversees a school where more than half of the 373 current MD students qualify for need-based aid. The new program is effective as of the 2019–20 academic year for all four classes, which means that current first-years and those enrolling at Weill Cornell Medicine in the future will have their debt eliminated or drastically slashed. Weill Cornell Medicine students pursuing a joint degree through the Tri-Institutional MD-PhD Program already receive full tuition funding and stipends for living expenses through the program and the National Institutes of Health, which means that two-thirds of Weill Cornell Medicine's future physicians will graduate largely debt-free moving forward. Says Dr. Choi: "Medical education will always be an equal opportunity pursuit at Weill Cornell Medicine—accessible to all students who are passionate about improving human health."
Dr. Choi says it was essential to create a financial assistance plan that aligned with the institution's values. It was important to reflect the view that the cost of medical school includes more than just tuition; after all, many students are forced to borrow substantial amounts of money to cover housing and other expenses while attending. By prioritizing those in need, the program also aims to ensure that any talented, aspiring doctor—regardless of socioeconomic background—can attend without an undue financial burden. "Now, all students are playing on the same field," he says. "Just think about it: If you want to be a doctor and you come to Weill Cornell Medicine, you don't have to worry about debt. That's an amazing message to send to young people."
Even those who are not directly impacted by the plan—or who are closer to graduation and will therefore benefit less—have recognized the importance of the move. Shortly after the announcement, Dr. Choi hosted a dinner for students at his apartment, and one fourth-year attended with a mission in mind: to thank Dr. Choi on behalf of her entire class. "Not all of the students were affected, but it was still uplifting for them," he says. "You can tell they're all just more united." Dr. Yoon Kang, senior associate dean for education, adds that the financial aid initiative illustrates the depth of care that Weill Cornell Medicine has for its students—and confirms its commitment to a broad definition of diversity and inclusion. "Weill Cornell Medicine's new initiative sends a very strong underlying message to applicants about who we are," says Dr. Kang. "Diversity in thought and perspective is what we believe in, and we understand that students are the pipeline to the future of medicine. No matter who you are, we want you to have an opportunity to come study here and be part of our community."
An Ethos and a Trend
The new payment model comes amid a national debate about soaring student debt, with U.S. presidential candidates offering proposals on how to tackle the rising cost of higher education. Other medical schools around the country are concerned about the problem as well and have recently tried to address the issue by implementing a variety of measures. Within the last two years in New York City, NYU Robert I. Grossman School of Medicine announced that it would go tuition-free for all MD students regardless of need, while Columbia University Vagelos College of Physicians and Surgeons and the Icahn School of Medicine at Mount Sinai launched their own debt-relief programs. Elsewhere, schools like the David Geffen School of Medicine at UCLA and the Perelman School of Medicine at the University of Pennsylvania award full merit-based scholarships for a select number of students.
Indeed, eliminating medical school debt could be an important step in building a more diverse physician workforce—which can lead to better outcomes for a patient population that is becoming increasingly multicultural. Studies show that students trained at diverse schools are more adept at treating patients from a wide range of ethnic backgrounds; minority patients, too, report higher levels of trust and satisfaction when they encounter healthcare providers who look like them. Dr. Kang points out that having doctors and physician-scientists with different skills, viewpoints, and life experiences can only accelerate advancements in treatments and technology. "Healthcare delivery is becoming more and more complex on every level," she says. "To maintain excellent standards of patient care—which come from discovery and education and clinical training—we absolutely must have a diverse pool of people thinking about all facets of patient care." Removing debt may address another looming challenge, since according to data published by the AAMC in 2019, there will be a projected shortage of roughly 122,000 physicians in the United States by 2032—a gap that will disproportionately affect healthcare access in rural areas and for underserved populations. Francesca Voza '20 agrees that the plan will likely encourage more individuals from underrepresented groups to consider medicine as a career. Voza did part of her undergraduate work at Manhattan's Hunter College, which has a highly diverse student body; some of the students she currently mentors there have told her that becoming a doctor seems an unattainable goal, largely because of the crushing cost. "Education should not be a luxury; it should be accessible to everyone," says Voza, who will have at least one-quarter of her overall debt erased. "This is really a visionary move." With living expenses included, Ikenna Onyekwere '23 believes the new initiative will also attract bright minds who may otherwise have pursued an MD elsewhere because they couldn't afford to study and live in Manhattan. Even though Weill Cornell Medicine was Onyekwere's first choice—he'd earned his bachelor's degree on Cornell's Ithaca campus—he admits to some hesitation on the day he had to commit. "Looking at the numbers, I knew I was going to be putting myself in a huge hole," he recalls, adding: "This is going to open doors for a lot of people."
Weill Cornell Medicine's leaders hope the program will also encourage future physicians to chart careers based on their own talents and interests—as well as where they might do the most good in the world—rather than feel pressure to pursue higher paying specialties like plastic surgery or orthopedics in order to repay loans more quickly. Their hope is that more new MDs will enter fields such as internal medicine, pediatrics and global medicine, which may earn less but are vital to improving health in the United States and abroad. "I've been thinking about geriatrics or primary care, and this makes me feel a lot more comfortable about that," says Anthony Palillo '22. "It's nice to know I have more freedom to pursue those desires." The plan also eases the strain on Natalie Nguyen '23. She entered Weill Cornell Medicine determined to work with underserved populations after graduation, despite facing an estimated $200,000 in loans. That concern stayed in the back of her mind, since she knew a different professional path could better provide for her family; her mother is a single parent trying to put two other daughters through school. But now that much of Nguyen's projected debt has been wiped out, "I can continue to pursue my career goals with more positive feelings," she says. "This is such a monumental change."
Reducing Stress
The new financial aid system won't just help students realize their dreams:it's also part of Weill Cornell Medicine's overall commitment to wellness, since today's medical students are experiencing higher rates of mental health issues than their peers. A 2016 study in the Journal of the American Medical Association found that 27 percent of medical students worldwide experienced depression or symptoms of depression, with more than one in ten reporting suicidal thoughts. Medical school is known for its long hours, lack of sleep and pressure to perform academically. Yet tight finances may play a part: a 2016 report in the Journal of the American Board of Family Medicine noted that high debt has been linked to worrisome consequences that include "callousness, stress, suicidal thoughts, failing medical licensing exams and leaving or being dismissed from medical school." Eliminating debt removes a key stressor for students, contributing to a better environmentin which they live and learn. "It's a huge first step in an ongoing, comprehensive program to support students academically and nonacademically,"says Dr. Kang. "Financial wellness is going to be tied to their emotional wellness."
There's the notion, too, that happier, healthier doctors means improved patient care. Notes Dr. Choi: "We all know that if you have physician burnout, you're not as good a doctor." Heba Shaaban '23, who was looking at $175,000 in loans but now will have very little to pay back, is of the same opinion. "I went into medicine because it's a noble career and you get to help people," she says, "but at the end of the day, it's difficult to help patients when you feel like you're drowning in debt."
Such an ambitious aid plan was made possible by the generosity of Weill Cornell Medicine donors. Dr. Choi notes that many medical schools are not as fortunate to have this kind of assistance, so it might be challenging for others to adopt similar measures; therefore, he says, the overall problem of student debt still needs to be tackled on a broader level. Even at Weill Cornell Medicine, another $51 million needs to be raised to fully fund its scholarship endowment. Alumni like Dr. Barbara Cox Koehler, MD '69, and her husband, Dr. Bob Koehler, MD '68, have already offered support, pledging to cover full tuition and fees for a student for four years. It's a way for Barbara—who worked with noted human sexuality researcher William Masters and at the Family Planning Division of the Centers for Disease Control and Prevention early in her career—to give back. Because of a scholarship, she left medical school with zero debt. "I probably couldn't have gone to Weill Cornell Medicine without it," she says. "It made an incredible difference in my life." So she's thrilled that other students will get the chance to experience the same joy and freedom that being debt-free can offer. "I think it's going to ripple through the medical community and the whole country as these students move forward," she says. "And if other medical colleges can do the same thing? Even better."
A Philanthropic Milestone
Weill Cornell Medicine's expanded financial aid program is the culmination of thirty years of generosity from numerous alumni and other benefactors, whose steadfast philanthropy has established and strengthened the institution's scholarship endowment. The new program is powered by a landmark gift—the single largest in Weill Cornell Medicine's history—from the Starr Foundation, led by Overseer Maurice R. Greenberg, in partnership with gifts from Joan Weill and Sanford I. Weill, chair emeritus of the Board of Overseers, and the Weill Family Foundation.
These donations and others from longtime supporters—including Christine Seix and Overseer Robert S. Dow, who in March made an eight-figure commitment toward scholarship support—together total $160 million. The milestone allows Weill Cornell Medicine to provide a debt-free education to all of its medical students with demonstrated financial need, beginning with the newly admitted Class of 2023 and each class moving forward. The contributions enabled Weill Cornell Medicine to launch the new program now; however, over the next decade it will aim to raise $51 million more to ensure that it continues. "Students whose passions, skills and talents point the way to medicine can now pursue their career aspirations, unencumbered by the pressure that comes with significant debt burdens," says Jessica M. Bibliowicz, chair of the Board of Overseers. "We are immensely thankful to our visionary donors, who are committed to making this program possible for our students."
 This story first appeared in Weill Cornell Medicine, Winter 2020