April 13, 2023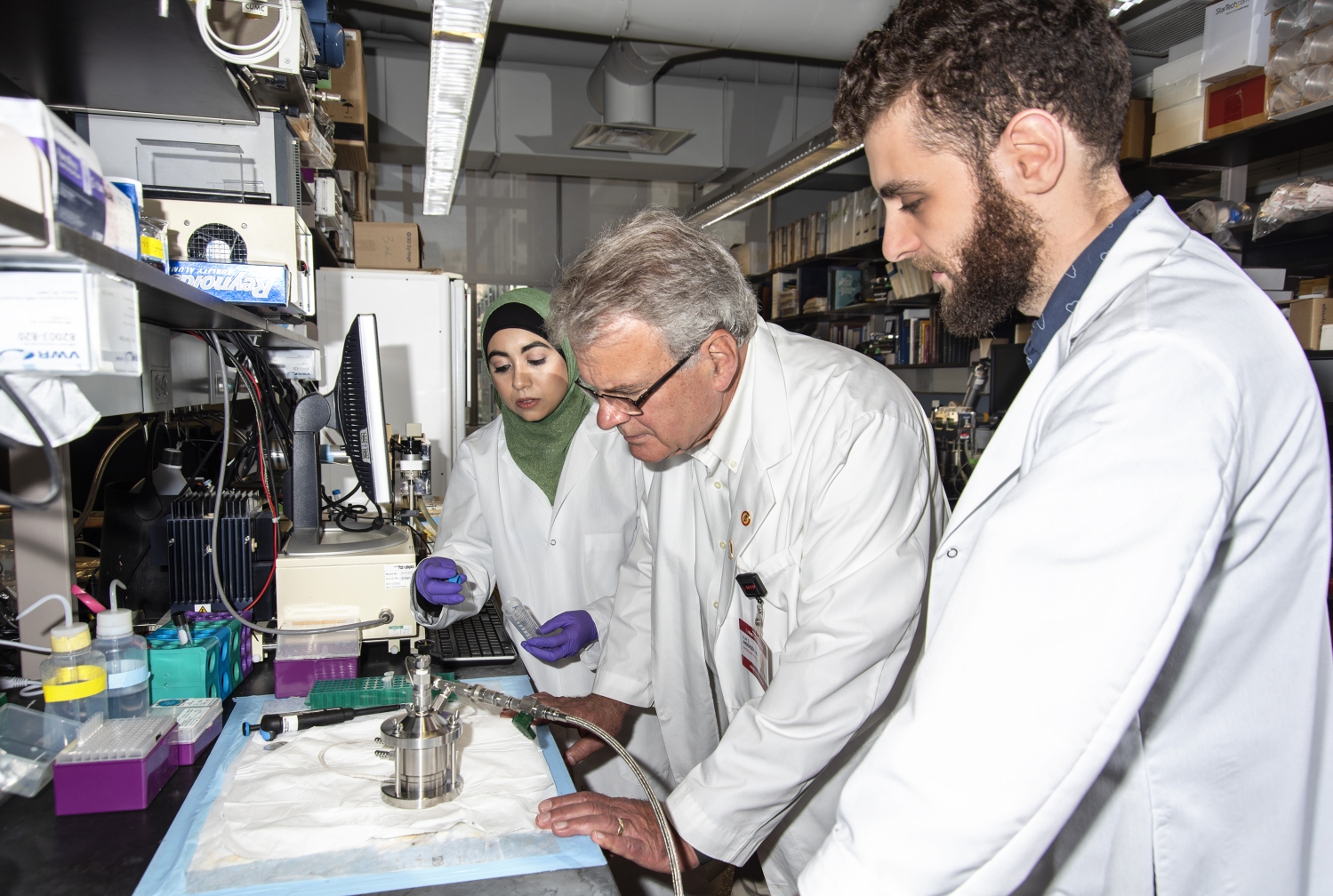 Dr. Joel Blankson first learned about M.D.-Ph.D. programs as he was finishing college. Now a leading expert on HIV pathogenesis and a professor of medicine at Johns Hopkins Medicine, he found the opportunity to create his own educational odyssey, culminating in both degrees—one in medicine, one in a laboratory science—irresistible.
"I applied to the Cornell/Rockefeller program because of the focus on applicants' potential more than their experience," said Dr. Blankson, who received his Ph.D from Rockefeller University in 1994 and his M.D. from Weill Cornell Medicine in 1995. "I believed I had potential. I didn't have a lot of research experience at that time, but the potential was there, and they saw it."
Dr. Blankson remains grateful for his dual degree program, now known as the Tri-Institutional M.D.-Ph.D. Program, which recently celebrated its 50th anniversary. The program's enduring goal during the past half century has been to create the next generation of leaders in biomedical research, equally at home at a patient's bedside and a laboratory workbench.
Balancing Science and Medicine
For program director Dr. Katharine Hsu (Ph.D.'93, M.D. '94), this is a delicate but important balance. "The physician-scientist is essentially bilingual and can speak the language of a physician as well as the language of a scientist," she said. "Not only that, but they can translate between the two."
Dr. Hsu sees an enormous need for scientists who can bring basic research findings to the clinic and describe their relevance to fellow clinicians. "That same person can then identify gaps in knowledge found in the clinic for fellow scientists in the lab, so they can pinpoint further scientific questions that need answering," she says.
Dr. Blankson lives that mission every day. "Having had training in both clinical medicine and basic science research has been invaluable in what I do," he said. "I do a lot of bedside-to-bench research, where as a physician I see interesting clinical cases and try to define the mechanisms behind the clinical phenotype."
Getting to Know Tri-I
Today's Tri-Institutional M.D.-Ph.D. Program, known as "Tri-I," grew out of three predecessor programs, starting with the Cornell/Rockefeller Program, founded in 1972. The Cornell/Sloan Kettering Program, founded in 1981, and the Cornell/Cornell Program, founded in 1984, soon followed. All three programs eventually merged in 1991.
The Tri-I program awards the M.D. degree from Weill Cornell Medical College and the Ph.D. degree from Weill Cornell Graduate School of Medical Sciences, The Rockefeller University or Gerstner Sloan Kettering Graduate School. Each year more than 600 students apply for 16-18 positions, which are fully funded from start to finish, in part by the National Institutes of Health Medical Scientist Training Program.
Dr. Hsu calls Tri-I's pace "grueling." Students complete their first two years of medical school, then complete their Ph.D. requirements—including the dissertation—before returning to Weill Cornell Medical College to complete their M.D. degrees. "Leaving the highly structured environment of medical school, where you know what you need to do to succeed, to move to the graduate school can be very jarring," she said. "In the laboratory you are responsible for your own project and must think creatively while learning novel techniques and managing your own time."
The transition back to medical school can be equally difficult, Dr. Hsu said. "Finally, once you've gotten used to the luxury of using your time as you decide and being able to ask pressing scientific questions and answer them, you go back to the structure and demands of the clinic," she said. "There's no doubt that the students who come to this program are dedicated but that commitment is tested in many ways throughout the entire program."
A Culture of Excellence
By any measure, the Tri-I program has created a steady culture of excellence as shown by the fact that 97 percent complete the dual degrees and 98 percent complete at least the Ph.D. Nearly all graduates go on to pursue residency and fellowship training and about 80 percent of the program's more than 450 alumni currently hold appointments at medical schools, research institutes or in biotech/pharmacology, Dr. Hsu said.
Additionally, the program has received continuous NIH funding since 1974. The program must re-apply for the NIH grant every five years; in both 2013 and 2018 Tri-I received perfect scores during the grant review. (The 2023 re-application has been submitted but the program has not yet received the results.)
Tri-I students are often successful in earning external funding for their research, sometimes even before they arrive on campus. About half of current students have won NIH F30 awards, which support predoctoral training for dual-degree students, or F31-Diversity awards, which support predoctoral candidates from backgrounds underrepresented in health-related research. 
Citizens of the World 
It's impossible to describe the Tri-I program without mentioning director emeritus Dr. Olaf Andersen, a faculty member since 1982 who led the program from 1996 to 2021, Dr. Hsu said. "Simply put, he's made the program what it is today."
When asked what he's most proud of about Tri-I, Dr. Andersen didn't hesitate: "I would say the diversity of the student body and the careers that the graduates chose, those are the two things that most satisfy me," he said. "And I would say that we have trained students who really care about humanity. They are good citizens of the world."