June 5, 2008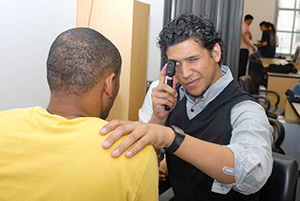 The 2008 Gateways to the Laboratory summer students got some hands-on experience in clinical skills during a Clinical Skills Workshop which was led by Justin Paul, a current MD-PhD student and Big Sib.
Gateways students learned the importance of vital signs and how to assess blood pressure using a sphygmomanometer. Then after learning about the form and function of the heart, students learned where on the chest to listen for specific heart sounds using a stethoscope. Students also learned about lung anatomy and how to use palpation, percussion and auscultation instruments to identify abnormalities. Lastly, the complicated neurological exam was also explained so that students could appreciate the significance of the reflex hammer test.
This summer, the Gateways students will also have a unique opportunity to observe various surgeries in Neurosurgery, Orthopedic Surgery, Cardiothoracic Surgery, and OB/GYN Oncology Surgery. They will also shadow physicians in the Departments of Cardiac Catheterization, Pediatric Psychiatry, Anesthesiology and Pediatric Neurology.